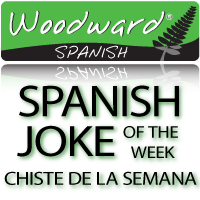 Niño: Profesor, ¿Cómo nacen los terneros?
Profesor: Bueno, primero salen las patas delanteras, luego la cabeza, después el tronco, y por último las patas traseras.
Niño: ¡Ahhh y después, ¿quién arma todo eso?
El niño piensa que el ternero sale por partes. Por ello hay que unir cada parte del animal.
VOCABULARIO
Profesor: Profesional encargado de enseñar
Nacer: Salir del vientre materno
Terneros: Crías de las vacas
Tronco: Parte del cuerpo sin considerar la cabeza ni las piernas
Armar: Ordenar, montar un objeto con sus determinadas partes
VOCABULARY
Profesor = Teacher
Nacer = To be born
Ternero = Calf
Primero = First
Salir = To go out, to come out
Patas = Generic animal feet (hooves, paws etc)
Delantera = Front
Trasera = Back
Tronco = Trunk (the body without considering the links)
Por último = Finally
Después = After, next, later
Quién = Who
Armar = Put together
Did you like this joke?