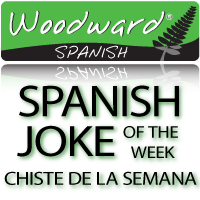 Una campesina entra a la farmacia del pueblo y pide al farmacéutico un frasco de 'Frecuencia'.
El farmacéutico la mira y le dice:
– Oiga, señorita, en mis 30 años de experiencia en este negocio, nunca he oído de ese producto.
¿Es algún perfume nuevo de la casa Cartier, de Dior o tal vez de Dolce & Gabbana?
La campesina respondió:
– Qué sé yo. Yo tampoco conozco la fragancia, pero ahora que fui al ginecólogo me dijo que me lavara el poto con 'Frecuencia'.
VOCABULARIO – VOCABULARY
Campesina = peasant, country girl, farmer
Farmacia = pharmacy, chemist, drugstore
Farmacéutico = pharmacist, chemist
Pueblo = (small) town, country town
Pedir = to ask for
Frasco = flask, bottle
Frecuencia = frequency
Con frecuencia = frequently, often
Negocio = business
Nunca = never
Oir = to hear
Fragancia = fragrance, perfume
Ginecólogo = Gynecologist
Lavar = to wash
Poto = In Chile, Poto refers to Bum or sometimes the entire genital area. It is not a vulgar word and is often used with children. If comes from the Mapuche language (South of Chile).
Frasco (Sust. Masc): Recipiente para contener sustancias.
Campesina (Sust. Fem): Persona que vive en el campo.
Farmacéutico (Sust. Masc): Persona que vende medicamentos.
Fragancia (Sust. Fem): Aroma, esencia, perfume.
Poto (Sust. Masc): Palabra de origen mapuche. Se utiliza para nombrar el trasero. (Chile)
Ginecólogo (Sust. Masc): Médico especialista, encargado de examinar los órganos femeninos.
Why is it funny?
The Gynecologist recommended to the country girl that she wash her "behind" with "Frecuencia" as in, often (frequently). The girl thought that she had to wash with (a brand name called) "Frecuencia".
El ginecólogo recomienda a la mujer, lavar su trasero "con frecuencia", es decir, en reiteradas ocasiones. Sin embargo, la mujer piensa que debe usar un perfume de nombre "frecuencia".
¿Cuál es tu perfume favorito?
What is your favourite perfume?