Horario de la dirección de tránsito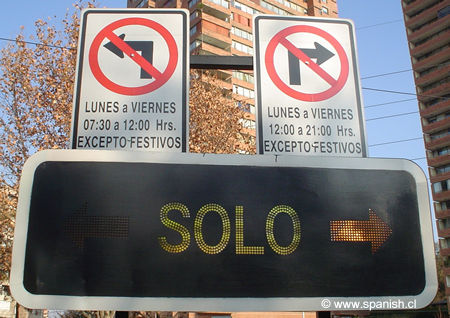 Horario de la dirección de tránsito
A photo we took of a road sign at an intersection in Santiago, Chile.
VOCABULARY
Horario= schedule, timetable
Dirección= direction
Tránsito = traffic, transit
Símbolo = symbol
Rojo = red
Línea = line
Flecha = arroz
Indicar = to indicate, to show, to point to
Doblar = to turn, to fold
Norma = Norm, rule
Regir = to rule, to be in operation, to apply (a law)
Izquierda = left
Derecha = right
Señalización = road sign
Festivos = public holidays
Days of the week in Spanish: lunes, martes, miércoles, jueves, viernes, sábado, domingo
Note that the days of the week in Spanish do NOT begin with capital letters.
En Español
El símbolo rojo con la línea diagonal indica prohibición.
La flecha indica hacia qué dirección no es posible doblar.
La señalización también indica los días y la hora en que esta norma rige.
La señalización a la izquierda, el caso es de lunes a viernes, es decir, que en los días hábiles no es posible doblar a la izquierda de 7:30 a 12:00 horas. En el caso de los días festivos, es posible doblar en esa dirección.
En la señalización a la derecha, de lunes a viernes no es posible doblar a la derecha de 12:00 a 21:00 horas.
La Señalización de color negro, con luces amarillas indica la dirección en que podemos doblar en este momento. La palabra "solo" seguido por la flecha indica la única dirección en que podemos doblar.
VOCABULARIO
Flecha = 1. Indicador de la dirección a seguir.
Señalización = Signos que organizan el transito.
Festivos = Día en que no se trabaja ya que se conmemora una fecha especial.
Las flechas también son armas delgadas, que terminan en punta.
Las antiguas tribus atacaban con flechas a sus enemigos.
¿A qué hora piensas que sacamos esta foto?
What time do you think the photo was taken?