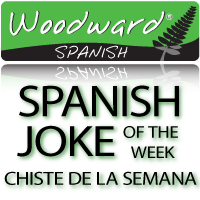 THE JOKE IN SPANISH
Pablito llega a la casa, después de ir al colegio:
Pablito: ¡Papá, papá, tengo una noticia buena y otra mala!
Padre: ¿Cuál es la buena Pablito?
Pablito: ¡Que he aprobado el examen final!
Padre: ¿Y la mala?
Pablito: ¡Que es mentira!
VOCABULARY FROM THE JOKE
Después: After
Colegio: School
Decir: To Say
Noticia: News
Aprobar: To Pass (a test or exam).
Examen: Exam, test
Una mentira: A lie.
El niño inventa que ha obtenido un buen resultado en el examen.
Noticia (Sust Fem): Acontecimiento, suceso.
Aprobar (Verbo): Obtener un buen resultado. Considerar por buena una acción o conducta.
Mentira (Sust Fem): Algo que no es cierto, falsedad, engaño.
Pass in Spanish
When we talk about…
passing a test or exam, we use the Spanish verb Aprobar
passing someone, we use Pasar
passing a car, we use Pasar or Adelantar
¿Normalmente tú apruebas tus exámenes de español?
Do you normally pass your Spanish tests?