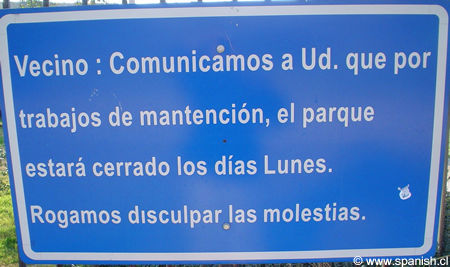 Vecino: Comunicamos a Ud. que por trabajos de mantención, el parque estará cerrado los días lunes. Rogamos disculpar las molestias.
VOCABULARIO – VOCABULARY
Vecino: Neighbour
Comunicar: to communicate, to convey, to tell
Ud.: Abbreviation of  usted.
Trabajo: work
Mantención: Maintenance.
Parque: Park
Cerrado: Closed
Día: Days
Lunes: Monday
Rogar: to beg, to ask for (plead)
Disculpar: to forgive
Molestia: inconvenience
Note: Mantención is sometimes written as Manutención.
What does the sign mean?
That they are letting the local community know that the park will be closed on Mondays for maintenance work (and sorry for any bother / inconvenience this may incur).
LECTURA – READING
Se utiliza este cartel para indicar que no está permitido el acceso al parque por trabajos de reparación los días lunes.
Se realiza esta medida para evitar accidentes con los transeúntes. También para que los trabajos de manutención no se estropeen con el tránsito de personas.
Por lo general, los trabajos de mantención consisten en un conjunto de arreglos o modificaciones que se realizan a los lugares. Todo esto, para conservarlo en buenas condiciones. Por ejemplo: pavimentar nuevamente, pintar, plantar nuevas especies, etc.
VOCABULARIO
Vecino: Persona que está próxima a otra dentro de un mismo barrio.
Ud.: Abreviación de usted.
Mantención: Actividad realizada para conservar un lugar en buenas condiciones.
Parque: Espacio público con áreas verdes.
Rogar: Acción de solicitar o pedir una cosa a alguien.
Cerrado: Del verbo cerrar. Impedir el acceso a un recinto.