Playa no apta para el baño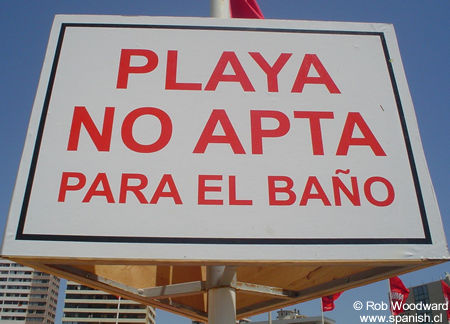 Playa no apta para el baño
This sign was found at one of the beaches in Viña del Mar, Chile.
VOCABULARIO – VOCABULARY
La playa = the beach
Apta = Apt, suitable
El baño = bathing, toilet
Normally el baño means the toilet, but in this context it refers to bathing as in swimming in the ocean.
Basically the sign says Beach not apt for swimming or No Swimming here!
Some more vocabulary for the text below:
El riesgo = the risk
La marejada = heavy sea, swell, undercurrent
El Salvavidas = lifeguard
Peligroso = dangerous
Tomar sol = to sunbathe
Advertir = to warn
La bandera = the flag
Aconsejar = to advise
LECTURA – READING
Cuando aparece este cartel, significa que está prohibido bañarse, debido a los riesgos de la marejada, agentes contaminantes o especies peligrosas.
Por lo general, las personas pueden tomar sol, pero alejadas del mar. El salvavidas vigila que se cumpla este reglamento y además salva a las personas en riesgo.
Además se suele utilizar la expresión "alerta roja" que advierte sobre la violencia del mar y prohíbe a las personas bañarse.
La presencia de banderas también suele indicar las condiciones de la playa. La "bandera verde" indica que la playa es apta para el baño. La "bandera amarilla" indica precaución y aconseja no bañarse. La "bandera roja" indica que hay peligro y está totalmente prohibido bañarse.
VOCABULARIO
Apta: Que no presenta las características necesarias para una cosa. Sinónimo de competente, idóneo.
Baño: Enjuague, lavado, inmersión. Habitación para el aseo personal.
Salvavidas: 1. Persona encargada de la seguridad en las playa 2. Objeto de plástico que permite a las personas flotar en el agua.
Bandera: Objeto rectangular de género que flamea; normalmente representa una idea, un grupo de personas o un país.
¿Te gusta ir a la playa?
Do you like going to the beach?