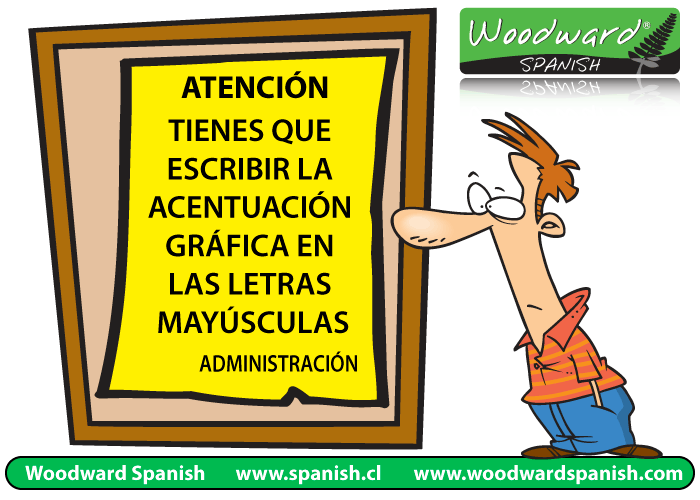 Tildes on Capital Letters in Spanish
A number of people have told me that in Spanish you don't put the tilde (accent mark) above a letter that is written as a capital letter.
THIS IS INCORRECT.
According to the Real Academia Española (RAE), you MUST put the tilde above capital letters.
I investigated a little more and found the official words of the RAE.
"Las letras mayúsculas deben escribirse con tilde si les corresponde llevarla según las reglas de acentuación gráfica del español, tanto si se trata de palabras escritas en su totalidad con mayúsculas como si se trata únicamente de la mayúscula inicial…."
Capital letters must be written with a tilde if it needs one according to the rules of accentuation in Spanish. This applies both for words that are written completely in capital letters (for example ACCIÓN) as well as those that only have the first letter in capitals (for example Ángela).
It seems to be a common mistake because the RAE then goes on to say…
"La Real Academia Española nunca ha establecido una norma en sentido contrario."
The Royal Spanish Academy has never established a rule against this.
And just to make sure it's clear they say…
"La acentuación gráfica de las letras mayúsculas no es opcional, sino obligatoria, y afecta a cualquier tipo de texto."
The graphic accentuation of capital letters is NOT option but OBLIGATORY and is for any type of text.
Basically you must put the tilde above a letter (when it is needed grammatically) independent of whether it is a capital letter or a lower-case letter.
So, if anyone tells you that you shouldn't…. just send them here.
ATENCIÓN

TIENES QUE ESCRIBIR
LA ACENTUACIÓN GRÁFICA
EN LAS LETRAS MAYÚSCULAS

ADMINISTRACIÓN