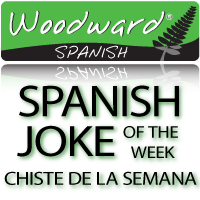 Zapatos de Cocodrilo – Joke
Un hombre en una tienda de zapatos:
Hombre: ¿Tiene zapatos de cocodrilo?
Vendedor: Sí, dígame, ¿cuánto calza su cocodrilo?
VOCABULARIO
Tienda (sust. fem): Lugar donde se ofrecen distintos productos
Zapato /s  (sust masc): Calzado, que abriga los pies.
Cocodrilo (sust masc): Reptil grande (normalmente de 2-4 metros de largo), con escamas. Viven en algunos rios.
Calza: Del verbo calzar. La medida o talla del zapato
Un cliente quiere comprar un par de zapatos con un diseño de piel de cocodrilo. Sin embargo, cuando el vendedor escucha "zapatos de cocodrilo", lo toma en el sentido de zapatos para cocodrilos y le pregunta la talla de zapatos del cocodrilo (una mascota??) del hombre, en vez de él.
VOCABULARY
Tienda = store
Zapatos = shoes
Cocodrilo = crocodile
Dígame = Tell me
Calzar = to wear (shoes). It is also used as a verb to say "the size of the shoes"
¿Cuánto calzas? = What size are your shoes?
Uses of DE
"De" in Spanish has many uses. Here are some of them:
One of the uses of DE is to show what something is made of:
Camisa de seda = silk shirt (literally "shirt of silk")
Anillo de oro = gold ring
Helado de frutilla = strawberry ice-cream (= helado de fresa)
Cuchara de Madera = Wooden spoon
(See also the proverb ) En casa de herrero, cuchillo de palo
Though sometimes DE refers to destined use of something
Zapatos de hombre = Men's shoes (it's like saying shoes for men)
This doesn't mean shoes made out of men!!!
Other examples:
Ropa de bebé = Baby clothes (or clothes for babies)
Crema de mano = hand cream
Zapatos de fútbol = soccer shoes (football shoes)
DE is also used to show the origin of something
Fruta de Chile = Fruit from Chile (Chilean Fruit)
Soy de Nueva Zelanda = I am from New Zealand
See our page about Nationalidades – Nationalities in Spanish
¿Te gustan los zapatos?