Hablar – Comer – Vivir
As we saw in the previous lessons, Spanish verbs can be divided into three groups depending on their ending:
-AR verbs
-ER verbs
-IR verbs
In this lesson we are going to compare these three verb types by using the verbs hablar, comer and vivir.
COMPLETE LESSON COMING SOON!
Verb Conjugation Summary Chart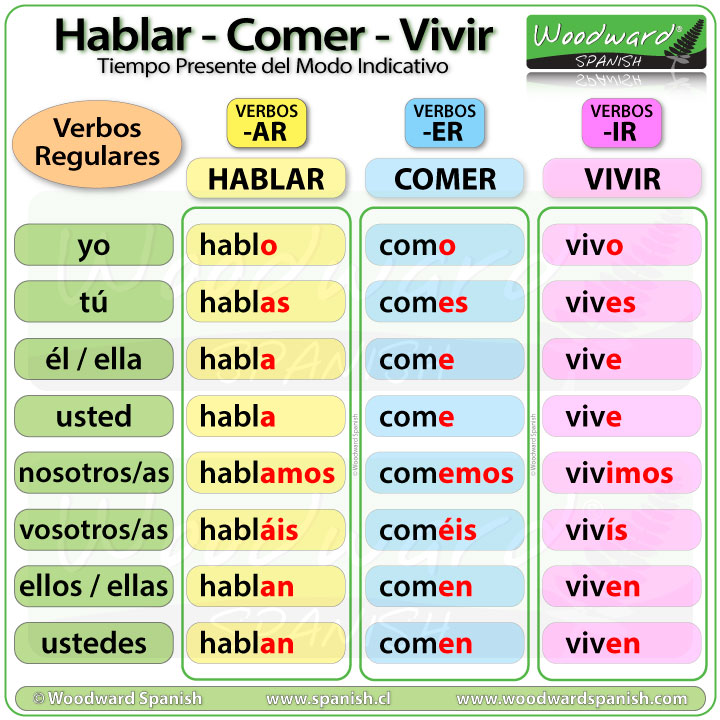 Hablar – Comer – Vivir – 101 Practice Exercises
This exercise is to practice subject + verb agreement of the verbs hablar, comer and vivir in the Spanish simple present tense (tiempo presente del modo indicativo).
Complete the blank space in each sentence with the correct conjugation of the verb.
The correct answer will appear after a few seconds.
NOTE: In this quiz we have not included the vosotros / vosotras conjugation.
We also have a version of this quiz in website format where students can choose the answers and be told whether their answer is correct or not. This quiz is divided into 4 individual games with 25 sentences to complete in each one (so it doesn't become boring). The following games are on our www.spanish.cl website.
Hablar Comer Vivir – Quiz 1 – Present Tense conjugation
Hablar Comer Vivir – Quiz 2 – Present Tense conjugation
Hablar Comer Vivir – Quiz 3 – Present Tense conjugation
Hablar Comer Vivir – Quiz 4 – Present Tense conjugation