Lista de rutinas diarias en español – List of Daily Routines in Spanish
Puedes escuchar la pronunciación de cada frase en el video.
(You can hear the pronunciation of each phrase in the video.)
Me despierto – I wake up
Apago mi alarma – I turn off my alarm
Me levanto – I get up
Me ducho (Tomo una ducha) – I take a shower / I have a shower
Me visto – I get dressed
Me peino – I comb my hair
Hago el desayuno – I make breakfast
Desayuno – I eat breakfast / I have breakfast
Me lavo los dientes – I brush my teeth
Voy al trabajo – I go to work
Empiezo a trabajar a las 9 – I start work at 9
Respondo los correos electrónicos – I answer emails
Almuerzo – I eat lunch / I have lunch
Trabajo en mi computador(a) / ordenador – I work on my computer
Termino de trabajar a las 5 – I finish work at 5
Me voy a casa – I go home
Llego a casa – I arrive home
Alimento al perro – I feed the dog
Preparo la cena (cocino) – I cook dinner
Ceno – I eat dinner / I have dinner
Veo la televisión – I watch TV
Leo un libro – I read a book
Me voy a la cama / Me acuesto – I go to bed
Me quedo dormido – I fall asleep
Rutinas diarias para la escuela
(Daily routines for school in Spanish)
Voy a la escuela / Voy al colegio – I go to school
Tengo clases – I have classes
Almuerzo – I eat lunch / I have lunch
Termino la escuela a las 3 – I finish school at 3
Me voy a casa – I go home
Hago las tareas – I do my homework
Observa (Fíjate) cómo en esta lección todas estas frases están en tiempo presente simple y tienen YO (primera persona del singular, pero en español está incluido en el verbo conjugado) como sujeto. En otra lección veremos las rutinas diarias usando la tercera persona singular (él, ella).
Notice how in this lesson all of these phrases are in the simple present tense and have I (first person singular) as the subject. In another lesson we will look at daily routines using third person (he, she).
Ejercicios de práctica – Practice Exercises
Prueba nuestro juego interactivo para practicar las rutinas diarias, usando el verbo reflexivo correcto.
Try our interactive game to practice daily routines using the correct reflexive verb: Las Rutinas – Verbos Reflexivos
Práctica de video: en la sección final del video hay un ejercicio de práctica donde aparece en la pantalla una caricatura de una rutina diaria. También hay tres frases al lado de la caricatura y debes elegir qué frase describe mejor esa actividad. La respuesta aparece después de 5 segundos (aproximadamente).
Video practice: In the final section of the video there is a practice exercise where a cartoon of a daily routine appears on the screen. There are also three phrases next to the cartoon and you must choose which phrase best describes that activity. The answer appears after 5 seconds (approximately).
Daily Routines in Spanish – Summary Chart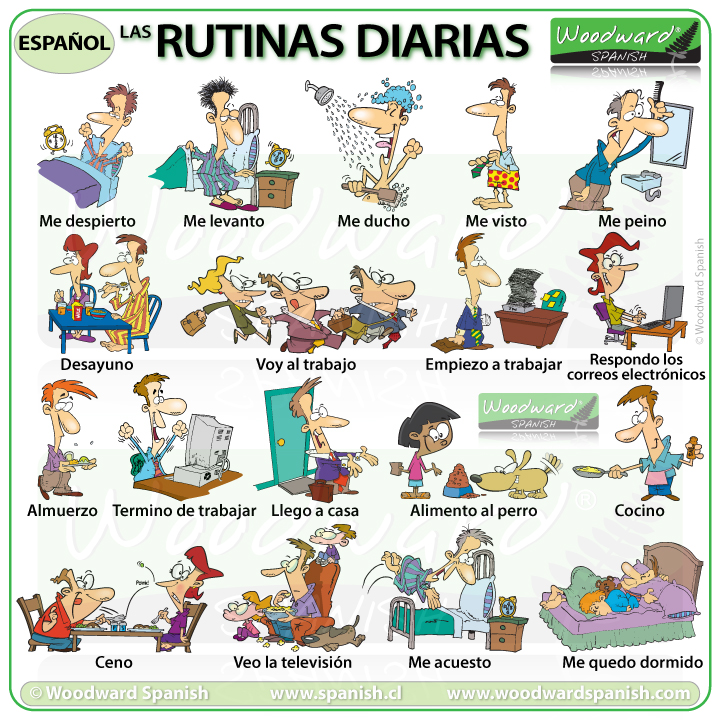 Extra Spanish Resources