List of Sports in Spanish
The following is a list of names of sports in Spanish:
Note: An English word may be used as the name of certain sports in Spanish though note that the pronunciation of it can be quite different.
ajedrez – chess
atletismo – athletics (track and field)
bádminton – badminton
baloncesto – basketball
béisbol – baseball
billar – pool
bolos – bowling
boxeo – boxing
carrera de BMX – BMX racing
carrera de caballos – horse racing
ciclismo – cycling
ciclismo de montaña – mountain biking
correr – running
críquet – cricket
escalada – rock climbing
equitación – equestrian
esgrima – fencing
esquí – ski
esquí de fondo – cross-country skiing
fútbol – football / soccer
fútbol americano – American football
gimnasia – gymnastics
golf – golf
hockey sobre césped – hockey
hockey sobre hielo – ice hockey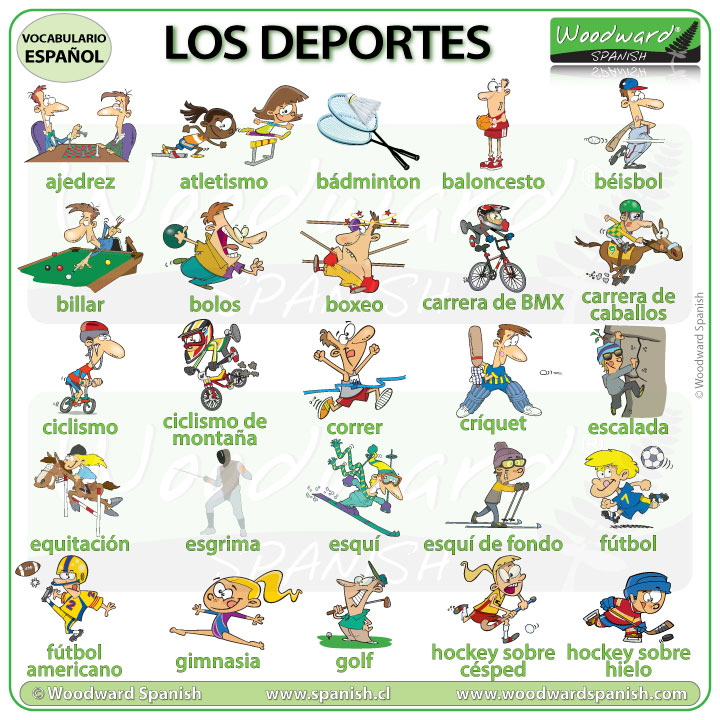 judo – judo
kárate – karate
kayak – kayaking
levantamiento de pesas – weightlifting
lucha de sumo – sumo wrestling
natación – swimming
paintball – paintball
patinaje artístico sobre hielo – ice skating
polo – polo
rafting – rafting
rugby – rugby
salto – diving
salto de esquí – ski jumping
snowboarding – snowboarding
sóftbol – softball
squash – squash
surf – surfing
tenis – tennis
tenis de mesa – table tennis
tiro con arco – archery
tiro al blanco – shooting
trampolín – trampoline
triatlón – triathalon
trotar / trote – jogging
vela / velerismo – yachting
voleibol – volleyball
waterpolo / polo acuático – waterpolo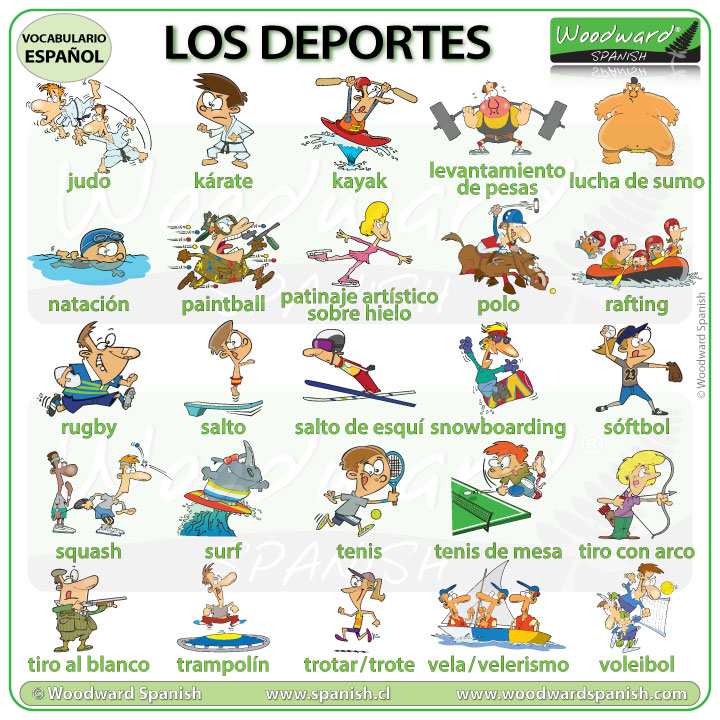 ¿Qué deportes practicas tú?
¿Qué deportes practicas tú?
What sports do you play?
Notice that practicar un deporte is often used to say you play a sport.
If you would like more vocabulary associated with sport, see our page about typical things associated with each sport in Spanish.